Humans Took my Neighbors Demo
Please play on full screen, thanks.
Controls press U on the game to view controls ----- movement up W, down S, left A, right D, attack I, dodge L, change weapon P, inventory O, pause U.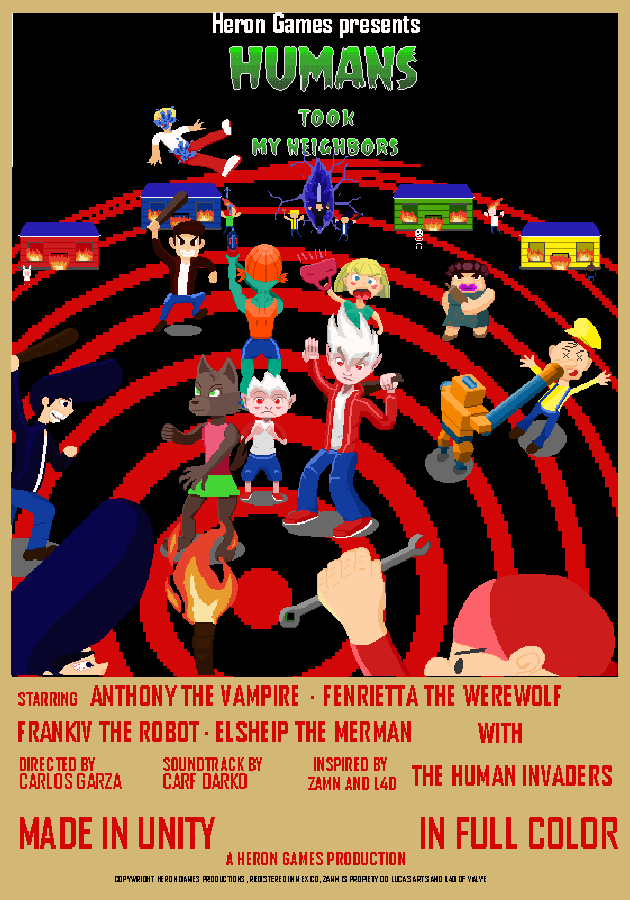 In the small town of Monsternett, monsters get ready to celebrate their biggest Holiday, halloween, as Anthony and friends prepare for the special night, strange portals start to appear all around town curious monsters went in only to never come back out as the portals disappeared…
Then the portals reapered bringing strange crazy creatures looking to destroy and capture the monsterkin, and only Anthony and friends can stand up to them on Halloween's eve.

Humans took my neighbors is a 2D top down action game inspired by classics like ZAMN and other top downgames, you'll go through the neighborhoods saving as many monsters as you can, fighting humans ready to take every monster they see, and as you progress through the levels maybe find the cause for this invasion.
follow us on Twitter
support the Kickstarter
Comments
Log in with itch.io to leave a comment.
Cool game... could use full gamepad support and some polish. I'd play the final version for sure.
thanks, I'll be adding that in our next update